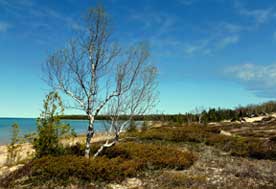 Welcome to the 'FOTH' (Friends of Thompson's Harbor) website
We are a non-profit dedicated to the support of Thompson's Harbor State Park, off US 23 between Alpena and Rogers City. Being on the Sunrise Side of Michigan and with stupendous views of Lake Huron, well maintained trails, and miles of shore and dunes, our park is a quiet jewel on the Great Lakes.
Friends of Thompsonas Harbor State Park (FOTH) is a 501c(3) non-proi!t voluntary association established to assist the Department of Natural Resources (DNR)
park staff in promotion, infrastructure improvements, interpretation, and resource preservation. Working closely with the professional staff of the park, we hope to improve and preserve the parkas infrastructure while raising awareness of the unique reasons why Thompsonas Harbor State Park was originally preserved, including recreational, natural, cultural, and educational activities.